An (Approximate) History of Barcamp Philly
300 Talks Held

1,650 Attendees

3,125 Beers Drank

Never Enough Cups of Coffee
What is Barcamp?
Barcamp is an "unconference" - a day of programming collaboratively built by the people, for the people. The schedule board is cultivated the morning of the event, and is open to all attendees for contributions.
How Does It Work?
When you arrive, you'll see a big board with an empty grid with times along one side and rooms along another. There'll be a stack of index cards and sharpies and people will write down topics and stick the cards to the board. Soon the whole grid will be full and voila! instant conference.
Can I Give a Talk?
Of course! We encourage you to post a topic to the board and give a talk/start a discussion, but you don't have to. Also, if you don't like the talk you're in, to use the "rule of two feet" to get up and go to a different talk.
What Kind of Talks?
Topics vary from the technical ("Wordpress Child Themes") to the inspiring ("Running: Not Just for the Zombie Apocalypse"). From practiced talks ("Designing for People") to open discussions ("Nerds w/ Kids Roundtable"). Check out last year's sessions.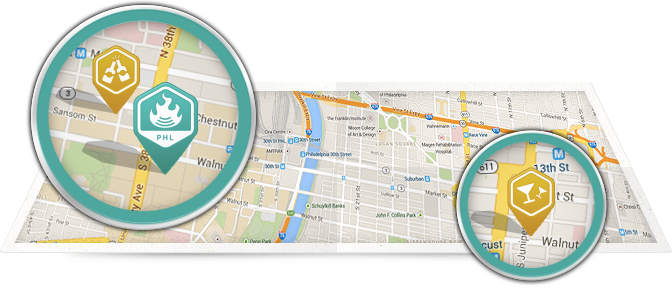 Transit
For anyone riding a train or regional rail to 30th Street Station, transfer to the Market-Frankford (BLUE) line West to 40th street, then walk 2 blocks south to Walnut, and 2 blocks east to Huntsman Hall. You can also take any trolley (GREEN) line (except the #10) and get off at 36th Street. Walk 1 block south to Walnut and 1.5 blocks west to Huntsman.
Parking
There is a public parking deck directly across the street at 38th & Walnut.
Food
Breakfast is provided and yes, There Will Be Bacon. Lunch is on your own and University City has a plethora of restaurant options within walking distance of the event. Use the map below to find place to nom and chat with fellow Barcampers.
Schedule
Most things about Barcamp are spontaneous, but there are a few things than run on a timeline. To wit...
Registration and Session Building

8:00am - 9:45am

Register, grab some coffee, and start posting sessions to the big board. Get to Huntsman Hall early, the slots fill in quick!

Opening Remarks

9:45am - 10:00am

Get the lowdown on what to expect before we send you off to your first sessions.

Morning Sessions (3 Time Slots)

10:15am - 1:00pm

10:15am - 11:00am
11:15am - 12:00pm
12:15pm - 1:00pm

Time to jump in! Sessions are 45 minutes each with 15 minutes in between to absorb what you've just heard, grab a nosh, and talk to others before your next session.

Lunch

1:00pm - 2:15pm

Get to know people while you get to know the lovely food options in University City.

Afternoon Sessions (3 Time Slots)

2:15pm - 5:00pm

2:15pm - 3:00pm
3:15pm - 4:00pm
4:15pm - 5:00pm

Don't let that food coma take over! There's 3 more time slots with awesome sessions waiting in the afternoon.

Closing Remarks

5:15pm - 5:30pm

Join us for a recap and important details on the after party.

6:00pm - 8:00pm

Celebrate another great year with friends old and new at the Barcamp Philly After Party at Drinker's West.
Pre-Party Sponsor
Ticket Sponsor
Venue Sponsor
Coffee (precious coffee) Sponsor
After-Party Sponsor
Luchador!
Giant
Big
Sponsor Barcamp Philly 2013
Join the ranks of our generous sponsors.
Luchador! $1000
Your logo will get top billing on our site and your logo will feature on the back of our promotional t-shirt! You'll also receive 6 free tickets to the event.
Giant $500
Your logo will be linked on our website and we'll feature your company on the back of our promotional t-shirt! You'll also receive 4 free tickets to the event.
Big $250
We will display and link your logo on our site and list your company name on the back of our promotional t-shirt! You'll also receive 2 free tickets to the event.
We're sorry, but the t-shirt has gone to print, so we can no longer add sponsors logos to the back. We can still promote your company on our twitter account as well at Barcamp.
Become a Sponsor
Who's Coming
Get to know just a few of the attendees that you'll have the opportunity to learn from and mingle with this year...
See More Attendees
Buy Tickets
Get your tickets for Barcamp Philly 2013